5.31.2006
who's with me now!
and a new obsession begins
Worm time.
5.30.2006
my ears can't wait for friday
5.26.2006
if you're even more bored than that
if you're really bored
5.25.2006
music for one apt and six drummers
convenient action
first a tax on tea, now the net?
all that, and a bag of chips.
(except maybe london)
sad news for austinites
5.24.2006
happy blirth day
keep em coming
help
5.21.2006
my life: "all about moi edition"
5.19.2006
www.wefeelfine.org
see this film
5.18.2006
my week. *all about me edition*
so this friday, tomorrow, may 19th, 2006, marks my five-year anniversary of being in new york city.
prior to landing on may 19th, 2001, i had never been to new york. i had no idea what exactly i wanted to do. i had no job. no apartment. i only knew two people. one friend in jersey, and sean labounty. all i had was a big bag of clothes, a few thousand dollars, and an idea that i wanted to be an arteest.
i remember talking to people during that first summer about how they've lived here for five years or so, and how it had just flown by for them. i remember thinking how i couldn't wait to be telling people that i've lived here for five years. that meant that i would've made it, and survived whatever it was that new york had to throw at me. well here i am. five years in. i don't know if you'd call me successful, but it's been amazing. i know that a lot of people have been here longer than that, and that millions of people move up here every day. so big deal, right? what's so special about me? nothin'. just happy to be here doing what i'm doing. five more years! five more years!
this is my first ever NYC cab ride. (5/19/01)
for a while, this was the only way i could determine uptown or downtown. (5/30/01)
i've survived some pretty bad haircuts. (8/9/01)
i've braved way too many blizzards. (2/17/03)
a blackout. (8/14/04)
...and some more bad haircuts. (5/29/04)
my 15 minutes. (7/19/04)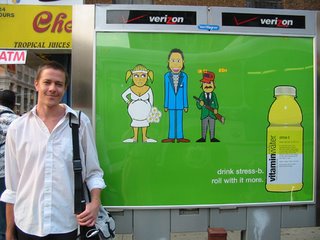 another party. another bad haircut. (5/25/05)
i had two friends in the city on 5/19/01. now i have at least three! ow ow! (5/17/06)
it's been real. it's been fun. holy monkey it's been fuckin' awesome. until next week...
Labels: my week
5.16.2006
oh yeah...
i know where i'll be stuffing ice cubes | ACL lineup leaked
5.15.2006
These shoes were made fer walkin'
mrs. featherbottom has sung...
prepare to be blown...
mp3some
last minute Mason Proper show
5.13.2006
watch jack black fight the gov.
5.12.2006
the event of the summer!
what more can i say?
when did Andy Rooney join the KKK?
The Truth IS Scarrier than Fiction
5.11.2006
nathan paul manske!
5.10.2006
Great gift for Mother's Day.
5.09.2006
observe this
5.07.2006
awesome news aggregators
5.06.2006
hilariously weird | HOT CHIP
5.04.2006
will anyone read this?
tuesday is hockey night
5.03.2006
Logitech.
my week. *good to be back in texas edition*
5.02.2006
'cuz i'm a rough gem.
5.01.2006
can't we just elect jon stewart and stephen colbert