5.18.2006
my week. *all about me edition*
so this friday, tomorrow, may 19th, 2006, marks my five-year anniversary of being in new york city.
prior to landing on may 19th, 2001, i had never been to new york. i had no idea what exactly i wanted to do. i had no job. no apartment. i only knew two people. one friend in jersey, and sean labounty. all i had was a big bag of clothes, a few thousand dollars, and an idea that i wanted to be an arteest.
i remember talking to people during that first summer about how they've lived here for five years or so, and how it had just flown by for them. i remember thinking how i couldn't wait to be telling people that i've lived here for five years. that meant that i would've made it, and survived whatever it was that new york had to throw at me. well here i am. five years in. i don't know if you'd call me successful, but it's been amazing. i know that a lot of people have been here longer than that, and that millions of people move up here every day. so big deal, right? what's so special about me? nothin'. just happy to be here doing what i'm doing. five more years! five more years!
this is my first ever NYC cab ride. (5/19/01)
for a while, this was the only way i could determine uptown or downtown. (5/30/01)
i've survived some pretty bad haircuts. (8/9/01)
i've braved way too many blizzards. (2/17/03)
a blackout. (8/14/04)
...and some more bad haircuts. (5/29/04)
my 15 minutes. (7/19/04)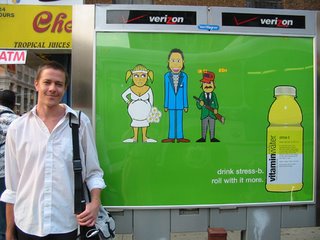 another party. another bad haircut. (5/25/05)
i had two friends in the city on 5/19/01. now i have at least three! ow ow! (5/17/06)
it's been real. it's been fun. holy monkey it's been fuckin' awesome. until next week...
Labels: my week